Kittens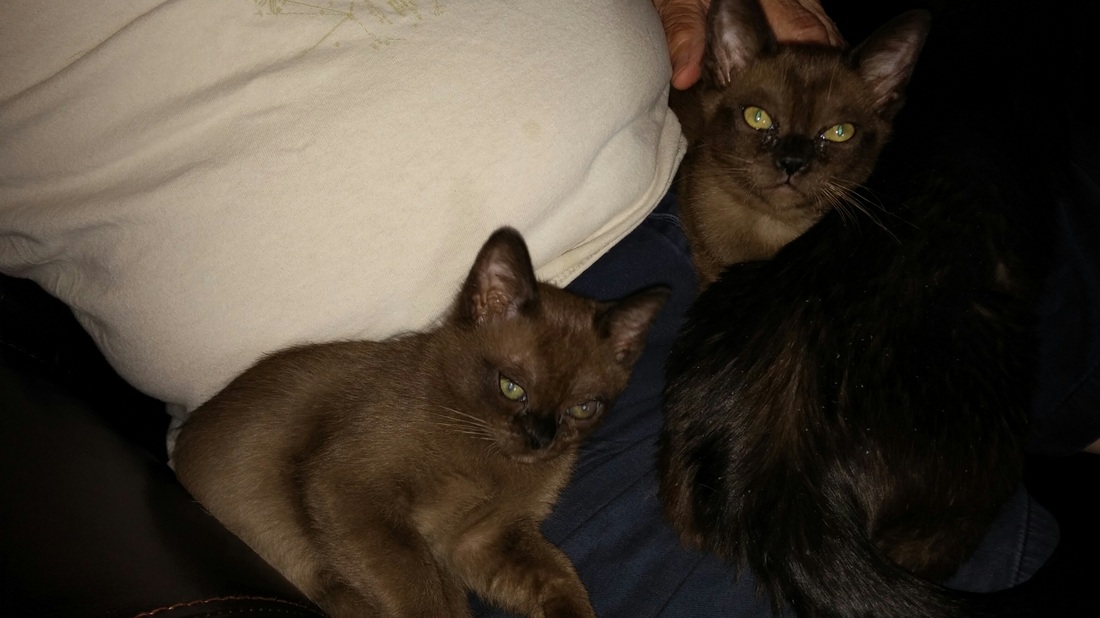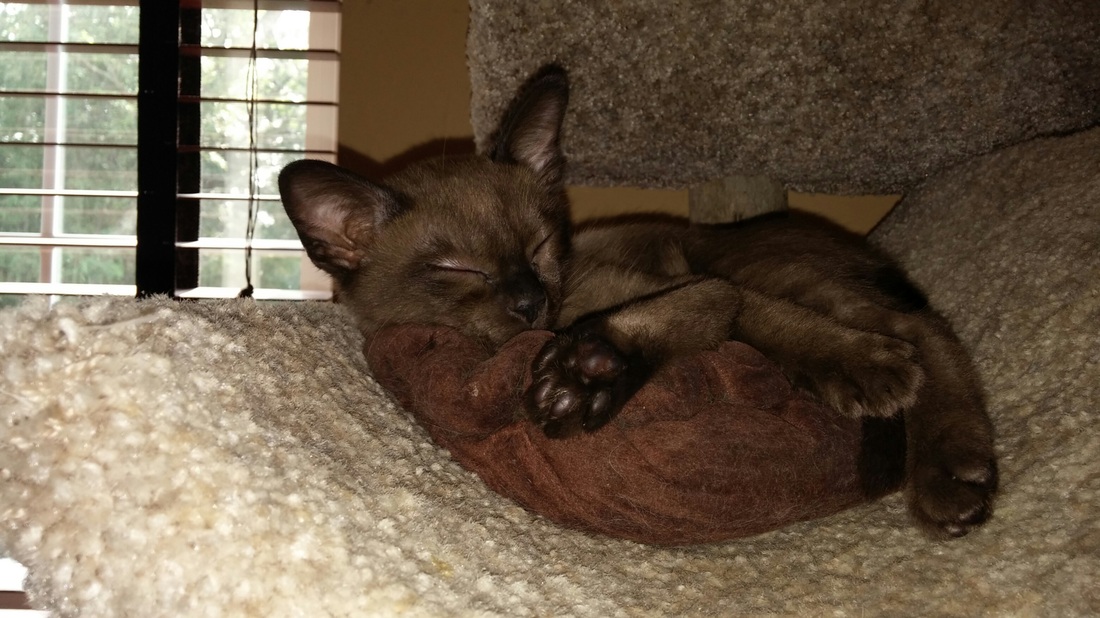 No babies available.

Check back in a few months.







Bringing Home Your New KatHevin Burmese Kitten
Bringing the Baby Home
Always transport your kitten in a carrier, outside your home. When you first get your kitten home, s/he may be a bit overwhelmed if immediately released into a big busy house. We recommend, for the first day or so, your kitten be given his/her own special place (i.e., a bedroom or bathroom) complete with food, water, litter pan, toys and cat bed. Try to keep other animals away during this period. It is during the first few days that the kitten should be seen by your vet. It is a good idea to keep him/her isolated from the other animals in your home until your vet confirms that s/he has a clean bill of health. By all means, go in and play with your baby and give him/her lots of love!! Once your kitten feels comfortable, leave the door open and just let him/her explore on his/her own, at his/her own pace. Before you know it, your kitten will have explored every nook and cranny of your house.
Litter
When your kitten feels comfortable enough to roam the house, be sure to show him/her where the litter pan is to be permanently. They catch on to this very quickly. It is important that you decide on an appropriate permanent position for the litter pan right away, so as not to cause confusion for your new kitten.
Litter pans should not be kept next to the food and water dishes.
It is EXTREMELY important to keep litter pans clean. Scooping must be done daily. Cats do not like dirty litter pans and if they feel their litter pans are not up to their standards, they may choose to find something cleaner (like your sofa) to use as their bathroom. In addition to daily scooping, you should completely empty the litter pan periodically, wash it out carefully, disinfect with Clorox and rinse well, dry and refill with fresh litter.
Right now this kitten is using a premium brand of clumping litter.
Food and Water
Fresh clean water MUST be available 24 hours per day. Stainless steel bowls are best used for food and water, but if you use plastic bowls, make sure they are kept very clean, as plastic may absorb bacteria which can cause intestinal problems, as well as feline acne.
Leave a quality dry food (e.g., Eukanuba, Nutro – Max Cat Kitten, ProPlan) out at all times. We use a combination of premium cat foods. To the adult diet, we like to add in a "dental diet" component (such as, Friskees Dental Diet or Science Diet Dental) and a "hairball" component (such as, Science Diet Hairball). This is what we do, it's not mandatory – your baby will be fine on one type of quality dry food.
In addition to a steady supply of dry food, your kitten has been getting canned food morning and night. S/he likes about any variety of Friskies Fancy Feast varieties. Stay away from the bargain brands. When it comes to cat food, you get what you pay for. Most of these brands contain a lot of artificial ingredients, as well as poor meat protein sources. The more complete a cat food is, the less they actually have to consume to meet their nutritional requirements. Fancy Feast can be purchased at Walmart and Kmart for less than at PetSmart or Petco. Never change your cats diet suddenly, this should always be done very gradually.
If your kitten is "not feeling its best" and isn't terribly interested in eating, try feeding a little baby food (veal, beef, chicken or lamb). Make sure there is no Onion in the baby food, as onion gives cats Heinz Body Anemia. We use Gerber brand for those special times or a treat at a show.
Please do not just continually refill dishes. Even dishes that contain water can become bacteria havens. They need to be completely washed out, with soap and hot water (don't forget to RINSE well).
Grooming
Trim your kitten/cats claws about every two weeks or sooner, if needed. Use cat claw clippers, NOT people nail clippers or dog nail clippers, as these can split the nail or cut it too close. Never get near the white part of the nail – just keep the tips blunt.
Use a rubber brush to brush your kitten/cats coat at least once a week, to remove loose underlying hair from the back and sides.
Clean the cats ears occasionally, using a Q-tip. Be careful not to insert the tip too far into the ear canal. Burmese ear wax tends to be dark brown – so don't worry about the color.
General Health and Grooming Tips
Things to keep on hand:
Baby food – for that situation where baby doesn't want to eat
Cat Nail trimmers; qwik-stop (just in case of a clipping accident)
Rubber brush
If you suspect your cat is ill, get them to the vet immediately!
Playtime
A scratching post is a must. It is a very strong instinct for a cat to scratch. If you provide several scratching posts around the house, you are very unlikely to have inappropriate scratching. If however, your cat takes a fancy to a sofa, chair of some other inappropriate scratching surface, you must take immediate action. A squirt of water from a spray bottle acts as a very good deterrent. If you spray your cat to discourage some inappropriate behavior, do not say anything when you spray him/her. You do not want the sound of your voice to be associated with an unwanted squirt. The thought process you want to go on in your kitten's mind is that – hey, if I scratch the sofa, I get squirted; maybe I shouldn't scratch the sofa.
There are many toys available on the market, which your kitten will love. Play is healthy. Sparkle balls, cat tracks, toy mice, ping-pong balls, etc., all make excellent playthings. Playtime with toys that have tinsel, strings or feathers must be supervised. These toys should not be left around after playtime. These are extremely dangerous if swallowed. Tinsel, string, etc., can get wound around their necks or intestines with disastrous results.
When you leave your home, or retire for the evening, always know where your kitten/cat is; they can get closed in some strange places.
Household Hazards
Be mindful of hazards around your home. Take extra care to assure there are NO dangling Electrical Cords for little mouths to chew on. You can either cover them with plastic corrugated tubing, or coat them with a fine layer of Vicks or Vaseline with a sprinkle of cayenne pepper. We chose to use plastic corrugated tubing.
At Holiday time, if Tinsel is used on trees, take care that the kitten/cat does not have access to eat it. Also, again, make sure all electrical wires used on holiday decorations are not accessible. If you have a live tree in your home, DO NOT use any sort of preservatives in the tree water. If you love Poinsettias plants – either buy the silk ones or keep the real ones entirely out of the reach of your baby.
Plants can be very poisonous to animals. Please check out this site – http://www.cfainc.org/articles/plants.html . Take a look at your plants and get rid of the poisonous plants or assure they are NOT ACCESSIBLE to your new baby (hanging from the ceiling, for instance.)
Do not use PineSol to clean with; this can be deadly to your cat. Many household items you do not think about are deadly. Pretend you are bringing a small child into your house and put small objects away.
General
For general cat information, check out:
http://www.cfainc.org
- CFA has lots of information on breeds of cats, care, health, show schedules, etc. It is a great site for any feline fanatic.
Things You Don't Do
Don't move the litter pan without showing the cat where you put it.
Don't put food within 6 feet of the litter pan; try to keep them as far apart as possible.
Don't leave the toilet seat up, the kitten WILL jump in!
Don't start the dishwasher, dryer or washing machine without checking for the kitten.
Don't keep doors open to the outside and always watch for cats when going and coming from outside. Always look down when entering or leaving your home at doorways.
Don't let anyone who has a sick cat, pet your cat, before washing their hands first. Your cat could end up with the same illness a few days later. Respiratory problems are easily transmittable.
Try not to get too upset if your cat is not using the litter box. The problem may be:
1. The litter box is smelly
2. You moved the box without notice
3. The cat needs more attention
4. The cat is ill
5. The cat is being chased/harassed by other cats/children.
Don't let small children play with the cat, unless you are there. Children do not realize how badly they can hurt the cat or scare it.
Please love your new baby as much as we have loved him/her!
If you have any questions or concerns, don't hesitate to call or email me.
Billie K. Stiffler
KatHevin Sable Burmese Cattery
South Jersey
609-261-1232
mailto:kathevin@verizon.net
http://www.kathevin.net
Sample Contract

TBS