Sangazure's Winston
1992-2001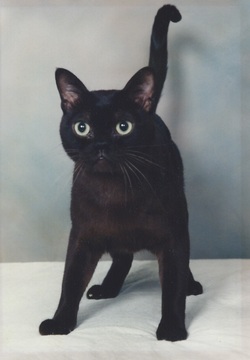 Sangazure's Winston, Winnie or Devil Cat, for short, was truly the love of my life. He was everything I'd ever wanted in a cat. He came from Sangazure Cattery owned by David Goffredi and Michael Pajak. Winston was with me a very too short 8 years; but Winnie got me hooked on Burmese. After him, no other breed could compare. I always think of the line from the original Star Trek, when Harry Mudd is talking about Tribbles – he says: "it's the only love money can buy"… well, Burmese are my tribbles. And, although David and Michael have retired from breeding Burmese, they still support me and mentor me in this labor of love for the Burmese breed.


GP, RW Windflower's Emma of KatHevin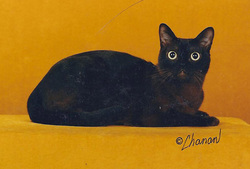 Emma came into my life in October of 1998. Emma lived in the lap of luxury as a plain old "house cat"; then, my girlfiiend Mary Ann purchased a Chartreux. As part of the sales contract, she was required to show and "grand" her cat in CFA. She innocently asked me if I'd like to go with her and maybe take Emma – after all, Emma is show quality – so I said – let's go! Well, the rest is history! Emma had a wonderful show career. She ended up 7th best cat in Premiership in the North Atlantic Region, and the BEST BURMESE Premier in the world, 2000 - 2001. She retired to my master bedroom where she lives with a crazy Main Coon – both living large and enjoying their lazy days in the sun or snuggled in the bed.


CG Windflower's Louie Looi of KatHevin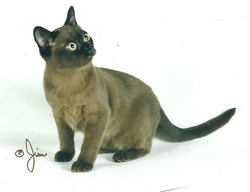 Louie was KatHevin's first STUD. He was a very gentle and sweet boy, and he DIDN'T spray! Louie came to KatHevin from Windflower's cattery. When I bought Louie, I had NO intention of breeding cats – I thought: 'no way am I EVER going to be able to do that!' (actually I think I said something like: 'those people are nuts…' but you get the idea). But, his breeder, Carolyn Bullotta said to me: "Don't rush off and neuter him – he's a really nice boy". Well, I still had no plans to breed this guy. As the months passed, Louie grew into quite a nice young man. I toyed with the idea of "breeding" but always found an excuse why that wasn't for me. Then, tragically, Carolyn passed away very suddenly. Most of her breeding stock was spayed and neutered. I looked at Louie and thought – I HAVE to TRY this breeding thing – for Carolyn. I just couldn't let her lines slip away so casually. So, I decided Louie needed a girlfriend.

Once the decision was made to actually TRY breeding, it wash't quite as easy to get started as you might imagine. Carl and Priscilla Eldredge (Burmystic Cattery) were the first people willing to trust us with one of their girls. The more I get into this hobby, the more I understand why it is so difficult to get started. New breeders really have to show a commitment and a level of competency, before they can get recognized and validated. It's tough, because breeding is an awesome responsibility – not to be taken lightly – AND it's not for sissy's.